So, with the start of a new Who's Da Boss fast approaching, I've asked
outragedkodiak
to give me a hand with Who's Da Boss 2009. What this means is that you will have a significantly better chance of getting your daily fix of Who's Da Boss without interruption. It also means that he will no longer be participating in the choice of Elite Four Picks for 2009.
outragedkodiak
's place will be taken by last year's fifth-place participant,
ecchs
.
We're also still looking for seed suggestions for the upcoming year of Who's Da Boss, so keep submitting them, and do your best to get out there and recruit new members!
With December fast approaching, I thought I would open up the lines for suggested seeds for Who's Da Boss 2009. As stated countless times before, you can suggest either individual seed or starting matches. When making suggestions, please keep in mind the following guidelines:
-
do not
be disappointed if your seed doesn't make it to the final list. I have a significant number already chosen, but I'm more than willing to pull some of my own seeds in favour of really great ones from the Who's The Boss community.
-
do not
suggest previously-used seeds. They had their chance, and now they're gone. I will be checking the final list with
amazon_ww
to ensure that I have made no doubled-up errors myself.
-
do not
suggest seeds that are too obscure. I consider myself to be pretty pop-culture savvy and if I don't have a clue who or what you're referring too, even if you include a Wikipedia article, most likely it won't be making it into the competition this year.
Otherwise, get out there and get recruiting. I'd like to see lots of new faces when Who's Da Boss 2009 comes screaming into this world January 1st.
Today's Match-Up: Obama vs McCain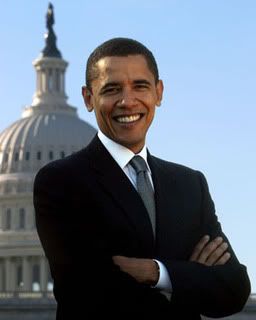 vs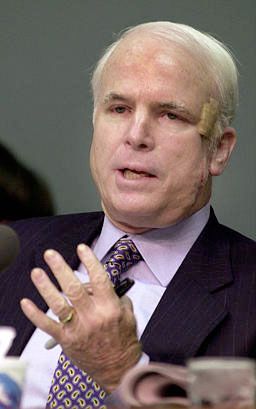 Barack Obama
(Democratic presidential candidate) vs
John McCain
(Republican presidential candidate)
In honour of our Southern neighbour's general election, I present a special bonus fight between two previous candidates for Boss: John McCain, maverick of the Republican party (is that even true?) vs Barrack Obama, suspected socialist (what?). VOTE NOW!
Winner:
Barack Obama
(338 electoral college votes)
over
John McCain
(163 electoral college votes)
Damn right, America. You've been fucking up for so long, it's nearly a miracle to the rest of the world that you finally made the right choice. But yesterday, history was made, and hope was given once again to hundreds of millions of progressive people around the world. And today, Barrack Obama has beaten John McCain (aka The Mummy) to a bloody pulp in the Who's Da Boss arena.
We here at Who's Da Boss salute the 44th President of the United States, and all of you who ushered him into office.
Featured commentary:
"
OBAMA FTW!" -
cheesegimp
So, we've almost reached the half-way point for the due date on the Who's Da Boss Banner Contest. To reiterate, your entries are due on October 18th. Judging will be done by me, and the winning banner maker will receive three (3) "Featured Commentaries" straight off the bat for Who's Da Boss 2009, greatly increasing their chances of getting to pick the Elite Four in 2010. Dimensions and details are up to you, but I would think about including favorite seeds or past Bosses, and of course the title or address of the site.

Good luck!
So far, the general consensus has been to start the competition back up in the New Year, something with which I am fine; this gives me more time to fiddle with the list (which I have only barely started) and to find the best pictures of each of the initial seeds. So, Who's Da Boss 2009 will begin just after New Year's Day 2009.

As far as recruitment goes, I want everyone to try and get Who's Da Boss featured by Livejournal. When you're on the Livejournal homepage, you can click down at the bottom, underneath the Spotlights, on "Suggest a Spotlight". If everyone can begin inundating Livejournal with spotlight suggestions for Who's Da Boss, that would be great.

I would also like to announce the first-ever Who's Da Boss Banner Contest! You have exactly one month (until October 18th) to submit a banner for Who's Da Boss to help promote our site. Dimensions and elements are up to you, but keep in mind that it should be appropriate for use on Livejournal and other websites, and that you might want to use popular seeds (or even past Bosses) in the banner. The entries will be judged by me, and the winning entry will receive the equivalent of three featured commentaries to go towards their final score at the end of Who's Da Boss 2009 (thus greatly increasing your chances of winning the right to pick the Elite Four in Who's Da Boss 2010).
Well, I got all of one reply to this the last time I asked, but I don't want Who's Da Boss to die, and I doubt any of you do, either, so here goes:

I don't have the time or resources to take Who's Da Boss off of Livejournal, at least not right now, so Who's Da Boss 2009 will run largely the same as 2008. I want to know the following things:

1) When does everyone want this to start? Have we been overloaded by 2008, and don't want to start until the New Year, or do you want it to run a little more like the original Who's Da Boss and start in October or November?

2) What are we going to do about recruitment? Ideally, I'd like all of last year's 20 or so regulars to be back, and for them to all bring in at least one more person. I don't know if we'll be attracting regulars from the past again, but there you have it.

3) When we have a more firm start-date, I will begin taking suggestions for seeds. So far I've only come up with a handful, but I haven't really started going over the seeds properly. Since we are continuing here on Livejournal, we will not be reusing seeds, as might have been the case had we been switching to a dedicated site.

Please, respond this time! Who's Da Boss doesn't run without participation.
So, school is back on, and I now no longer have the time to dedicate to taking Who's Da Boss out of Livejournal and onto its own dedicated domain, so it looks like the competition will stay here for at least another year. With that in mind, I wanted to know when you guys wanted it to start again? Also, what are we going to do to increase readership/membership? Once we get a firm date on when Who's Da Boss 2009 will start, I will start asking for seed suggestions.
Ok, so now that Who's Da Boss 2008 has ended with the victory of Wonder Woman, it's time to start thinking about Who's Da Boss 2009 and the future of this illustrious competition.

First of all, I'm considering making a drastic change to Who's Da Boss. You see, Livejournal is kind of yesterday's news; many of our past regular contributers no longer use their Livejournals (I know that I don't anymore) and we have witnessed a steady decline in participation over the past rounds (I was sad to see it, considering the amount of work I put into the competition, and considering that I'm the first moderator to never miss a day's battle, although I did have the advantage of taking all weekends off). With that in mind, I'm been discussing the competition with a more web-savvy friend of mine, and I'm considering taking Who's Da Boss out of Livejournal and getting it its own dedicated site (probably through a free domain, I certainly don't have the money to spend). A dedicated domain would allow for a lot more in terms of aesthetic representation and technical finesse (for one thing, the site could do the vote-counting for me) and we could add features like tracking your favorite seed's progress and the like (I'm also trying to come up with a way of programming a sweet interactive battle tree in Flash, but for now that's a pipe dream).

I'm not going to make a unilateral decision on this. Who's Da Boss belongs to us all, and if its member want it to remain on Livejournal, then here it will stay. I will, however, say this: if we move it, Who's Da Boss will start over, and I will be willing to reuse seeds from previous Who's Da Boss competitions (though not past Bosses). I think it might also bring in significantly more participation, which we sorely need.

Regardless, the most important thing we all need to do to make Who's Da Boss better is recruit new membership. Are you with me?
All hail your Boss for 2008:
Like any final champion, Wonder Woman has her share of controversy, and to those of you who are dissapointed with the result, I say to them that, at least in part, so am I, but Wonder Woman won fair and square (and she would have won without
salad_barbarian
's last-minute recruiting) so whining about it now is a pretty moot point. And remember, if you're not happy with this year's results, there's always next year, with a whole-new competition and plenty of new seeds to rally behind.
I have no interest in providing statistics other than a featured commentary count, but if anyone else wants to trawl through the fights this year and post them, that's fine by me.
And now, the rankings according to featured commentary and honourable mentions (the second number is honourable mentions). Let it be known that there were quite a few contenders who did very well in the early stages of Who's Da Boss 2008, but who seem to have disappeared later in the competition and whose scores are thus rather low:
whatsupdog
- 20 (5)
outragedkodiak
- 18 (5)
jiminwindsor
- 17 (4)
amazon_ww
- 14 (3)
ecchs
- 12 (2)
jameel
- 9 (3)
cheesegimp
- 6 (4)
andsheewas
- 5 (1)
ungulatedefund
- 4 (2)
pinkcheeze
- 4 (1)
thegreenavenger
- 4 (0)
waygroovy
- 4 (0)
catnik
- 3 (4)
brotherlawrence
- 3 (0)
whereswebb
- 3 (0)
e_monk
- 2 (1)
tsed
- 2 (1)
prudentior
- 2 (0)
salad_barbarian
- 2 (0)
captain_slinky
- 1 (1)
betelgeuse5
- 1 (0)
chinchilathehun
- 1 (0)
fuzzysocksucker
- 1 (0)
Gene
- 1 (0)
gypsie_jenny
- 1 (0)
jezebeau
- 1 (0)
kebbi
- 1 (0)
lisagarbage
- 1 (0)
ljisthedevil
- 1 (0)
marmelade
- 1 (0)
marseverlasting
- 1 (0)
shashondra19
- 1 (0)
sleeperwaking
- 1 (0)
laurylelf
- 0 (1)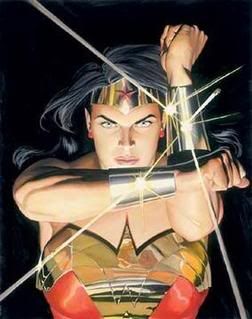 vs
Wonder Woman
vs
Patrick Stewart
Or, as I like to think of it,
amazon_ww
's heart vs
amazon_ww
's loins. Yesterday's semi-final match saw an explosion of comicbook-nerd support for Wonder Woman (obviously, someone's been recruiting). Will someone do the same with
Star Trek
fans for Patrick Stewart over the next three days? When this fight ends on Saturday, will I be sifting through votes from people I've never seen before, and why didn't anyone try doing this earlier? Surely, at least a few of these drummed-up voters might have stuck around a little longer through the competition if they'd been brought in earlier...
Regardless, this is it, the final battle of Who's Da Boss 2008. On the one hand, we have Wonder Woman, super-powered bondage queen, whose very first battle against Iron Man proved to be a close one, and whose victory (until yesterday) seemed largely unsure. On the other, we have Patrick Stewart, who other than Edward James Olmos and the K-T Meteor has crushed every opponent he has come across and has been the favorite in this competition since he first entered it four months ago. Now, only one of these titans can make it on to the coveted title of Boss, to join Giants like Christopher Walken and Gautama Buddha (I prefer not to think about the Monty Python Foot incident).
Please, also keep in mind that
this is your last chance to get featured commentary
, so I expect to see some comedy gold!
I've been saying it for months, and today I'll say it one last time (until perhaps the beginning of Who's Da Boss 2009): VOTE NOW!
Winner:
Wonder Woman
(19 votes)
over
Patrick Stewart
(12 votes)
The debate has raged. The votes have been cast. The people have spoken, and today, Who's Da Boss 2008 comes to an end with the crowning of your champion, your Boss for 2008, Wonder Woman. She has battled her way through fellow seeds and elite four picks, through sexism and lamitude, to defeat the first major favorite for boss in the final round. Arise, Wonder Woman, and join the hallowed ranks of the Bosses.
Featured commentary:
The year was 1979. Patrick Stewart and I had been traveling the Yangtzee in search of a Mongolian horsehair vest when we came to rest as the small port of Tseng-Peng. We had been down these narrow cobblestone streets a thousand times, but this evening, it never looked so alien to us both. In the distance a child was crying...fatherless...a bastard child, perhaps. My back ached, my heart ached, but my feet endured. Stewart's feet also remained resilient as we trekked through the empty dens of Oriental sin. All of the clothing traders had gone, but a different sort of trader still lurked about. "Just a taste," he said. That was all it took. The toll road of denial is a long and dangerous one. The price? Your soul. I had warned Stewart that the Dark Continent is no place for an opium addict, but in those years he had the youthful arrogance of a young pup and could not be contained.

In the intervening weeks of seeking a Seven-Per-Cent Solution for my companions taste for mind-venom, I had heard that a certain woman of Wonder whom possessed great healing knowledge would be passing through the small rice-farming village of Xiaolan. I had tracked the temptress through the thick jungles for weeks, in the hopes that she would be able to release him from his suffering. Surely, when our paths finally did cross, I found her to be nothing less than a full-fledged Victorian tribute to the female form. Spirited, and bearing the distinction of well-bred vowels, I coaxed her to return with me to where Stewart rested. To this day I lament that action, for several months earlier a Leopard Baron by the name of Swayze that Stewart had upset in a card game, had put a contract on his life. Wonder Woman had every intention of collecting on this opportunity, and followed me, in my ignorance, back to where my companion rested. There was no way for me to have known.

When she entered our hovel, Stewart was still shaking from the Shanghai Sally. Wasting no time, she bound us both in golden lasso and set fire to one end of the reed hut. The shrew believed that we would both be consumed by the inferno in minutes, and she could well have been right, if not for the escape we made using a favorite cigarette lighter and a can of pomade. We had barely leapt out of the hut with our lives before it collapsed into a mesh of raging hellfire. Not losing sight of the situation, Stewart stripped out of his few remaining clothes, unsheathed his saber (the only friend who hasn't betrayed him), and ran after Wonder Woman into the black abyss of the jungle.

I have no knowledge of what hardships my nude friend faced out there, but in the distance I could hear the familiar sounds of many forms of martial combat. I pursued, and got near enough to witness him knocking Wonder Woman down from a thick tree branch, then swing on a vine to the jungle floor to deliver a killing blow. She rolled out of his way, but he gave chase. Sabre in hand, he recalled, he cleanly cut off her head – which subsequently shot out bolts of electricity and awesome. By the time I had caught up to my companion, the Quickening had begun. His eyes met with mine as he slowly, comfortably hovered in the air, bolts of electricity shooting from every angle.

"There can be only one."

Wonder Woman was dead, and The Prize for Stewart was a cure for his addiction, mortality, the ability to sire children, and a certain charisma from which he could understand each man's thoughts and dreams. We captured an ocean-faring junk later in the day, and set sail for Ceylon. It took months for him to forgive my bringing an outsider to our camp, even if my intentions were honorable. But we had many miles to travel together before our mission was done – there was still the matter of a horsehair vest to purchase, and a Leopard Baron to kill. Our friendship did heal over time, for the truest cure for such pains is salt water: sweat, tears and the ocean.
-
outragedkodiak
"August 22nd, 2008

Wonder Woman, famed superheroine and public figure, was led away by police today as part of an ongoing investigation into several fetish-themed deaths over the past several months, along with several million dollars worth of property damages.

The superhero, also know as Diana Prince, first came to police's attention after the death by heart attack of one Tony Stark during mysterious circumstances this April. Just over a month later, one of the nation's most skilled pilots, Kara Thrace, died of a suspicious broken neck while attending one of Los Angeles's most popular nightclubs, the New Caprica. Ms Prince was in attendance, but denied involvement.

Ms Prince then took part in her general superheroing activities, battling hordes of the risen dead throughout July before hunting down their diabolical mastermind, Dr Doom and ending his threat once and for all. The nation cheered with relief, but scandal was soon to follow.

Early in August, another of Earth's defenders turned up dead - this time, the Doctor, who, due to a quirk of alien genetics, was able to testify at his own funeral that he was killed by Wonder Woman after a blind date went horribly wrong. An army of starships was dispatched to bring her to justice, only to be shattered and left scored across the Earth as she shattered them one by one. Matters only worsened when an Internet video surfaced of Wonder Woman and Doctor Doom in severely compromising positions shortly before his death, strongly suggesting a terrible sexual need burning within the disgraced superheroine's chest. Furious, Wonder Woman embarked on a global campaign of devastation, burning down hundreds of buildings and reducing the entire Internet infrastructure to rubble.

Finally, it was Patrick Stewart, revered icon, who brought her down, albeit at the cost of his own life. Feigning fascination with her lifestyle, he managed to get her into handcuffs, supposedly as part of foreplay but actually to enable her capture. Unfortunately, Mr. Stewart was not as young as he used to be, and the strain was too much for his heart, which gave out.

Ms Prince will be undergoing a long trial and sentancing. A spokesman for the Whosdaboss Corporation, which initially introduced Ms Prince to Mr Stark and set off the chain of events that led to this unfortunate end, expressed regret, but suggested that she was clearly a Champion."

(So, yeah. WW for the win.)
-
ecchs
Honourable mentions:
whatsupdog
,
laurylelf
,
amazon_ww
and
jiminwindsor